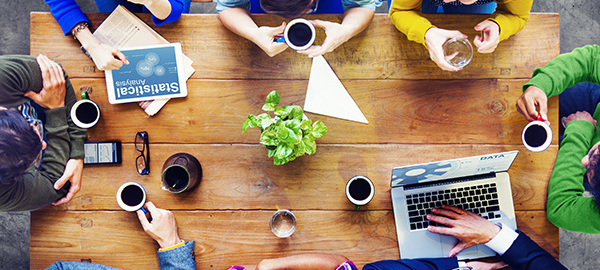 Ideas to Cure the Workplace Blues & Increase Productivity
Originally Published in South China Morning Post by Annemarie Evans.
From potted plants to paternity leave, Chinese medicine practitioner Jimmy Lau will stop at nothing to make Richform a desirable employer and increase productivity.
There are a number of green potted plants at the offices of Richform Holdings. According to a recent report, foliage in the office will increase productivity productivity. The people who work here aren't called employees, they're called associates, in a harmonious partnership with their associate or boss Jimmy Lau Fu-shing.
When Lau, 55, joined Richform, which distributes the Everpure Drinking Water System in Hong Kong and Macau, he brought his corporate social responsibility ideals with him – and they go far beyond the plants.
Lau provides paternity leave, which is ahead of the legislative curve in this city. Staff members can have "flexible birthdays", meaning they can choose whether to celebrate on the day or have another day off around that time. There's a birthday allowance, also a hot weather allowance. Outdoor staff all get an outdoor allowance. There are yoga sessions, and a masseuse comes in regularly to provide neck and head massages.
"I also give an allowance to those who think up good ideas on improvement, for example how to improve efficiency," Lau says.
Lau also gives 5 per cent of the profits to good causes. It's also good business practice, or a win-win situation, he says. With happy staff members there is less turnover and more productivity.
"We also have a committee for volunteer work; this month we will all be visiting a home for the elderly. Older people like to talk about their life experiences and our associates can learn a lot from the elderly."
Lunch hours at Richform are 30 minutes longer, so staff can do banking and other errands without having to rush lunch. Lau uses the title doctor and is a Chinese medicine practitioner, a knowledge and practice he passes on to others in the firm.
"It's important for them to protect their health," he says. He earned a degree in management from Chinese University, then 20 years later he studied Chinese medicine at the University of Hong Kong. "I had to study five nights a week," he says. "And I often had to go to mainland China as there are no Chinese medicine hospitals in Hong Kong."
But longer lunch breaks, yoga, massages – doesn't the cost cut into productivity and profits? Lau thinks otherwise.
"Productivity actually increases when employees are relaxed. You don't need to spend a lot for corporate social responsibility, but it is highly effective in improving our associates' morale and service quality. It also helps to retain the talent and the results can be great."
Lau also provides cash incentives for staff members to give up smoking. "They can use office hours to go for workshops and seminars along with the financial incentive," he says. He also provides summer job opportunities for staff members' relatives.
"Some 90 per cent of Hong Kong companies are SMEs [small to medium-sized enterprises]," he says. "We employ half the [workforce]. As an SME I'm proud of what we have achieved and I think I should do something so more SMEs can follow."
Lau is nominated for the corporate citizenship category of the Spirit of Hong Kong Awards.
This article appeared in the South China Morning Post print edition as Bright Ideas to Cure the Workplace Blues
https://www.urban-balance.com/wp-content/uploads/2014/10/urban-balance-cure-workplace-blues.jpg
364
600
erin kistner
https://www.urban-balance.com/wp-content/uploads/2014/06/urban_balance_logo_transparent2.png
erin kistner
2019-09-09 22:06:14
2019-12-04 00:01:18
Ideas to Cure the Workplace Blues & Increase Productivity