The 8 Dimensions of Well-Being & How to Stay Connected with them at Work
"Well-being" – it's a somewhat ubiquitous term that describes the state of being characterized by one's overall degree of health, prosperity, and contentment. Often preceded by an even more universally understood term, "health", well-being is about making adjustments to your routines that allow you to live life to its fullest capacity. It's about cultivating positive self-regard and making conscious choices, not only for ourselves, but also for the benefit of others and the world we live in.

You could think of well-being programs in the workplace as "health plus" – the offerings that go above and beyond the scope of more traditional employee wellness benefits (which often focus on things like diet, exercise, and smoking cessation) and instead move us toward the recognition that well-being is about how all of the components relate with one another and what balance is required for a person to feel well. Holistic by nature, the concept of well-being considers the whole person – mind, body and spirit – and provides a lens through which to view one's state of health across the many realms of human experience.
Here at Urban Balance, the 8 Dimensions of Well-being that we like to consider include the Physical, Emotional/Mental, Environmental, Financial, Occupational, Social, Intellectual, and the Spiritual – along with the interconnection of each, as depicted in this diagram.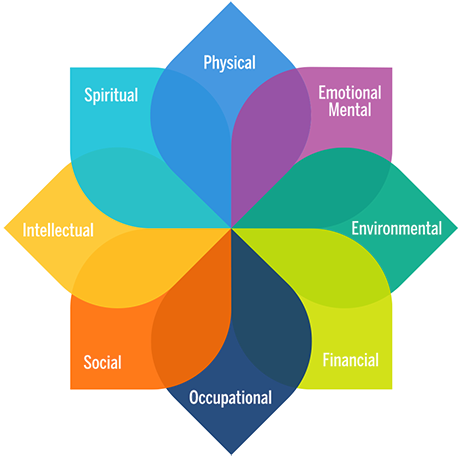 Image Source: University of Michigan
Here are a few thoughts on each of the 8 dimensions and some ideas about how to relate with them in the context of our work-lives:
Physical
One of the more tangible dimensions, this one is all about taking care of the body – the container in which we experience life. It's about making skillful choices around diet, exercise, rest/sleep and seeking care for physical issues as they arise. Attending to this realm is important in maintaining the energy and stamina we need to meet life head-on.
In recent years, we've begun to see the normalization of movement and nutrition classes (two of our great passions!) which invite employees to take a break from their day, create healthy habits and even learn something new. And, judging by the trend reports we've seen, more and more workplaces will be seeking these types of services for their employees in 2020.
Mental/Emotional
This dimension of well-being is about getting to know our own emotional landscape and learning to accept and value what arises there. Cultivating emotional intelligence and working to maintain an overall positive affect can help employees meet workplace challenges in a productive manner.
According to a recent study, 72% of employees want their employers to care about their mental health. Research shows that employees who have a strong connection with their manager and also those who have friends at work experience a greater degree of mental health over those who do not. Such fulfilling relationships can help a person to feel supported and engaged, and help prevent burnout. Outlets like mindfulness/meditation classes in the workplace along with encouragement to take "brain breaks" can also be extremely beneficial in the long run.
Environmental
Considering how we care for both our immediate environment, our community, and the planet, and how these things support us in return – these elements all play into our experience of environmental wellness. This dimension asks us to address our consumption and purchasing habits, reduce waste, and ask basic questions about our workspaces – do you have access to the right amount of light? Good quality drinking water? A comfortable chair or appropriately adjusted standing desk?
This dimension of wellness is sure to be a hot topic in 2020 – it's pretty challenging to be productive when our environment hinders us. Prioritizing organization in your workspace can also be helpful, as clutter and not being able to find the items we need can really fragment our attention.
Financial
When it comes to financial well-being, we love the 4 points named in this article in Corporate Wellness Magazine:
Keep spending within one's means
Be financially prepared for emergencies
Have access to the information and tool necessary to make good financial decisions
Have a plan for the future
Employers can support their staff with this dimension of wellness by offering classes and seminars in the workplace, which can also help to normalize the fact that managing money can be a challenge – let's remove the stigma!
Occupational
Occupational well-being is not only defined by our chosen career path, but by the sense of purpose we derive from our work. Well-being is available in this realm when we address workplace stress and establish supportive coping mechanisms. This dimension calls for us to understand and practice work-life balance in order to live sustainably.
Employers can highlight this dimension of wellness through activities like employee appreciation gatherings, off-site community service projects, and fresh opportunities for learning and enrichment like lunch & learns.
Social
Social well-being ties in closely with the mental/emotional and occupational dimensions described above. It encompasses the quality of connection we have with our community, and how we choose to show up. Ways to engage in this realm include volunteering, giving back and helping others. It's about building strong relationships and paying attention to how we show up for our co-workers and those whose lives we touch.
Intellectual

This dimension is about keeping a healthy level of mental stimulation and staying inspired. We can support our intellectual well-being by taking advantage of learning opportunities and acquiring new skills not only in our field of study or profession, but outside of it as well. This might come in the form of sharing book or podcast recommendations with your team, employer-sponsored lunch & learn classes, etc. Even once we've become established on a certain career path, there is always room to grow.
Spiritual

According to a recent study cited in this article, 78% of Americans have a desire to experience spiritual growth and about half of those people say they talk about it openly at work. This last of the 8 dimensions of well-being deals with how we make meaning of life's events – regardless of whether or not we follow a particular religion, spirituality at work can take the form of participating in activities that align with and serve to strengthen your values and growth, and supporting others as a reliable team member.
As we head into 2020 with the inevitable resurgence of new year's resolutions around "getting healthy", it's important to remember that well-being is deeply personal. There's no magic bullet. We all have a unique formula for what equals well-being for us. Some people may require a steady focus on certain dimensions more than others in order to stay in balance, while others peoples' focus may shift with the time of year or phase of life they're in.
One thing we can all do is stay awake to our own needs in addition to those of our employees, co-workers, and family members, and support each other. This is one journey where we all rise together.
https://www.urban-balance.com/wp-content/uploads/2020/01/The-8-Dimensions-of-Well-Being-How-to-Stay-Connected-with-them-at-Work.jpg
335
850
erin kistner
https://www.urban-balance.com/wp-content/uploads/2014/06/urban_balance_logo_transparent2.png
erin kistner
2020-01-02 10:17:48
2021-05-14 21:55:47
The 8 Dimensions of Well-Being & How to Stay Connected with them at Work