On Virtual Wellness Retreats (and How Your Employees Can Benefit)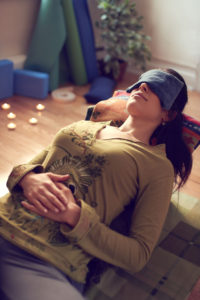 What comes to mind when you hear the word, "retreat"? You might think of traveling to a remote location in pursuit of a self-care experience, free from the distractions of work and family. "Retreat" comes from the Latin verb – "to pull back". Indeed, no matter the style or location of a retreat, one of the reasons they are so beloved by many is that they invite us to withdraw from the hustle and bustle of modern daily life, while providing the clarity, inspiration, and inner healing we crave.
The pandemic may have rendered formal retreats next to impossible for the time being, but thankfully, it is possible to create a similar experience of "pulling back" within your own home. In fact, at-home employee wellness retreats are one of many new virtual, corporate wellness experiences that have become popular in recent months. If you're an HR professional, wellness coordinator, or corporate manager looking for unique ways to support your employees with pandemic fatigue, keep reading!
During this time when workplace mental health is in the spotlight, providing employees with a special experience like a virtual wellness retreat can be a great way to spark interest in your broader corporate wellness program. This type of one time or periodic immersion experience can help employees jumpstart new wellness habits that can benefit them for years to come.
Here are 3 reasons to offer your employees a corporate-sponsored virtual wellness retreat:

They can help employees find balance and connection during their workday.
Let's be real – working from home during a pandemic can feel stressful, monotonous, and downright draining at times. Just when you think you've got the hang of it, that feeling of fatigue creeps back in. Help your employees stay out of non-stop work mode and manage this fatigue by encouraging them to try a variety of different wellness offerings each day for a week.
Even if employees participate separately via pre-recorded content, knowing that they are taking part in the same practices as their co-workers throughout the course of the week can help foster a sense of community within your company. You could further enhance the sense of community by providing a virtual space for employees to share and connect about their experiences.
They offer variety and versatility.
Wellness is a balance of many factors, and the formula looks different for everyone. Virtual wellness retreats are a great way to offer your employees taste of many different practices, which can ultimately help them discover what resonates most.
Employees also benefit from being able to to work the practices into their daily routine at times that work for them. Whether it's a virtual yoga class, a self-care webinar, or a nutrition & cooking class, employees can choose what interests them and participate when it's most convenient.

They introduce consistency and discipline.
As employees dip into a variety of practices in over the course of the week, they will begin to see how the classes and webinars might fit into their routine on a regular basis. Creating consistency is often what makes wellness practices most effective in the long run. So, urging employees toward steady participation encourages them in the right direction and sends the message that you're committed to their needs. Building this type of positive culture around wellness at your workplace can help foster employee accountability and strengthen overall engagement in your broader corporate wellness program.
—————————————–
Urban Balance has created a 7-Day Virtual Wellness Retreat — just for your employees!
This bundle of hand-selected wellness practices and webinars is designed to help your team de-stress and spend time tending to their well-being.
How it Works:
Employees tune in to hand-picked classes from their smartphone, tablet, or computer. Then, they'll gain access to the specialized wellness content curated just for them!
Urban Balance Virtual Wellness Retreats include (all pre-recorded):
Six 60 min. movement classes
Three 60 min. nutrition videos
Two meditations
Four wellness webinars
One BONUS productivity pack
Click here to view the retreat flyer, browse the many topics and class types available in our virtual wellness catalog, then contact us to discuss what YOUR company's wellness retreat could look like!
—-
Urban Balance is the premiere provider of comprehensive on-site corporate wellness services in Portland, Oregon. We deliver yoga, Pilates, meditation, massage, nutrition and learning opportunities to the office environment for happier employees and a healthier bottom line.
We now offer many of these services online! Check out our catalog of Virtual Wellness Services here.
If your company is ready to step up its corporate wellness programming, contact us today to learn how Urban Balance can support your employees and wellness goals!
************
https://www.urban-balance.com/wp-content/uploads/2020/10/yoga-retret-web.jpg
335
850
Urban Balance
https://www.urban-balance.com/wp-content/uploads/2014/06/urban_balance_logo_transparent2.png
Urban Balance
2020-10-26 20:45:55
2020-10-31 06:51:52
On Virtual Wellness Retreats (and How Your Employees Can Benefit)